Adapted and performed by Josh Hitchens
Stoker's Dracula is a 75 minute solo adaptation of Bram Stoker's classic tale of terror. Unlike other adaptations, this play uses only the novel's original text of diary entries, letters, and newspaper articles. A solo tale of terror that has received rave reviews from critics and audiences and been performed in theaters, museums, and people's homes.
… …
"An enthralling 75 minute condensed version of the 1897 vampire classic that will leave your hair raised, your skin crawling, your spine tingling, and your blood curdled. In a remarkable performance, Hitchens assumes all the roles - both male and female - with split-second timing . . . he brings startling movements and scary inflections to Stoker's haunting words. The eeriness of the script is enhanced by a single spotlight that casts ominous shadows on the walls, and that Hitchens at times extinguishes, plunging the space into total darkness and allowing the viewer's imagination to run wild. Even with the absence of light, you will be held in rapt attention by this brilliant tour de force."
- Deb Miller, Phindie.

… …
"You may have seen one of the hundreds of adaptations of the book, but you have never seen any quite like this. Hitchens captures the spirit of the time and characters with a chilling fierceness. The performance is intimate and at times intensely frightening."
- Brian Stone, WHYY Newsworks.
… …
"The script, written by Hitchens himself, was a condensed and streamlined version of Bram Stoker's classic novel -- and it brilliantly conveyed the eerie and terrifying qualities of the original. As an actor, Hitchens was mesmerizing, playing all the major roles with great verve and conviction, in a variety of convincing voices . . . The intimacy of the space made the story particularly compelling -- you've probably never seen an audience so rapt and still. The effect was of being in a psychic space midway between theater and storytelling. Which is to say, terrifying and wonderful. Very much what it must have felt like on that long ago night outside of Geneva when Dr. Polidori first told the tale which introduced vampires to the Western canon. It was an evening of dark glamor. I felt privileged to be there."
- Award-winning author Michael Swanwick.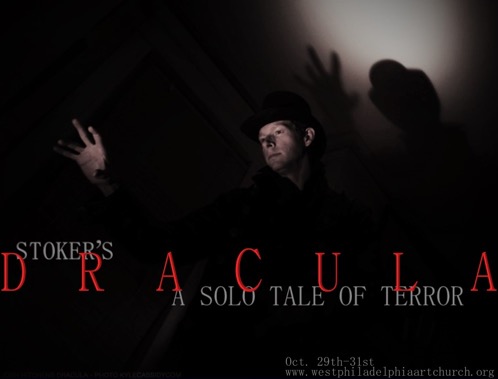 … …