By Bram Stoker


On the eve of the publication of his greatest novel, Dracula, in an attempt to thwart "play pirates", Bram Stoker cobbled together a stage adaptation. Partially handwritten, and partially cut and pasted excerpts from proof copies this play was read once in 1897 at the Lyceum Theatre in London strictly for copyright purposes.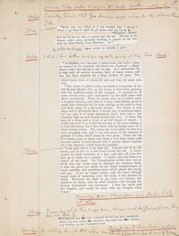 Prior to 1968 all plays intended for public performance were require to be submitted to the Lord Chamberlain's Office for approval and licensing. If not for this requirement this play may have been lost to time, but a single original copy remains housed in the Lord Chamberlain's Collection of Plays at the British Library.
It was read again on May 18, 1997 for its centenary at the Spaniards Inn in Hampstead
Cast*:
| Count Dracula | Mr. Jones (T Arthur Jones) |
| --- | --- |
| Jonathan Harker | Mr H Passmore (Herbert Passmore) |
| John Seward, MD | Mr K Rivington (Ken Rivington) |
| Professor Van Helsing | Mr T Reynolds (Tom Reynolds |
| Quincey P Morris | Mr Widdecombe (Wallace Widdecombe |
| Hon Arthur Holmwood | Mr Innes (Herbert Innes) |
| RM Renfield | Mr Howard (E Eardley Howard) |
| Captain Swales | Mr Gurney (Henry Gurney) |
| Coastguard | Mr Simpson |
| Attendant at Asylum | Mr Porter |
| Mrs Westenra** | Miss Gurney (Kate Gurney) or Miss Yeolande (Ida or E Yeolande) |
| Lucy Westenra | Miss Foster (Mary Foster) |
| Mina Murray | Miss Craig (Edith Craig) |
| Servant** | Miss Conford or Miss Holland (May Holland) |
| Vampire Woman | Mrs Daly |
*The playbill lists the actors simply as Mr, Miss, or Mrs. Researchers have since deduced who most of the players likely were.**Two versions of the playbill exist listing different actors for the roles of Mrs Westenra and Servant. It is unknown which list is accurate.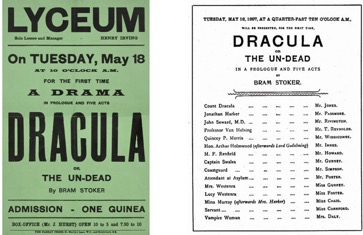 … …