By Rhiannon Frater
… …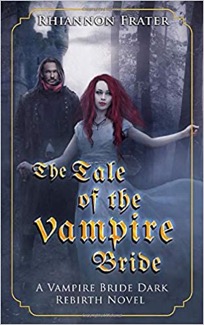 All I ever wanted was the freedom to live life as I pleased, despite my aristocratic parents' hopes I'd secure a prestigious husband. But my fate was far more terrible than an arranged marriage when my family became prisoners to one of the most fearsome and powerful vampires of all time, Count Vlad Dracula.
Imprisoned in the decrepit castle in the Carpathian Mountains, my new life as a Bride of Dracula was filled with bloody feasts, cruel beatings, and sexual depravity. There was no hope of escape.It was only when he took me to the picturesque city of Buda on the Danube River and I met a handsome, mysterious vampire in the darkened city streets, did I dare hope to find love and freedom.
… …
I was born Lady Glynis Wright, the daughter of English aristocrats. When traveling in the Carpathian Mountains, my family met a tragic end.
I was transformed into a creature of the night, and I suffered great horrors at the hands of my evil vampire master, Count Vlad Dracula. I vowed to one day escape him, and live a life free of his brutality.Since those early days of my captivity in the castle, I have learned to embrace the title of Countess Dracula as I set into motion plans to seek revenge against those who betrayed my family to Dracula and to reunite with the man I love.Despite my ambitions, it's increasingly apparent that my life continues to be overshadowed by the ominous presence of Vlad Dracula.
… …
In the great city of Buda, Hungary, I have sought to establish myself as a member of the new vampire court, and create a family with my love, Ignatius, and my fledgling vampire daughter, Laura.
Yet, I am constantly menaced by unknown forces, and the threat of my blood union to Vlad Dracula looms over me. Though I am no longer his prisoner, Vlad Dracula's voice echoes in the recesses of my mind. His blood binds us together in a twisted matrimony in spite of the deep hatred for him that burns within my soul. I yearn to be free from this darkest of magic for I fear that he will return one night, and I will not be able to resist the call of his blood
.
… …
My name is Erzsébet, Countess Dolingen of Gratz, and I am a vampire. I am also Vlad Dracula's one true love.
For centuries, we shared a love that consumed us whole. But betrayal can turn the greatest of passions bitter in the hearts of lovers. In anger, he impaled me on an iron stake and left me to suffer in a mausoleum hidden from the world. Now, my mind wanders through the centuries, recalling the triumphs and defeats of my long life. But what my beloved doesn't know is that I am not yet defeated…