Stoker's Wilde
By Steven Hopstaken and Melissa Prusi

… …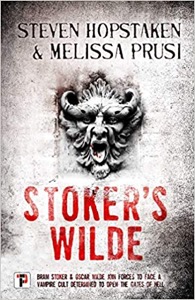 A young Bram Stoker is a staid and pious Irish civil servant. Oscar Wilde, fresh from university, is just beginning to show signs of the brilliant and flamboyant artist he is to become.They first reluctantly team up to defeat a werewolf on a hunting party when Bram's inexplicable ability to detect the supernatural is awakened. Afterwards, Bram falls in love with Oscar's fiancée, Florence Balcombe, and starts a new life with her, leaving their friendship in tatters.But the pair's lives become entangled once more when their friends take an interest in dangerous cults, one of which is led by the mysterious Black Bishop. Oscar and Bram must put their difficult history aside, come together to save their friends and uncover the Black Bishop's terrifying plan.
… …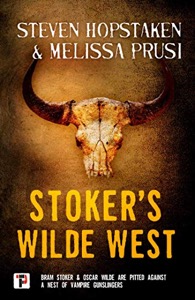 Thinking they have put their monster-hunting days behind them, Oscar Wilde and Bram Stoker return to their normal lives. But when their old ally Robert Roosevelt and his nephew Teddy find a new nest of vampires, they are once again pulled into the world of the supernatural, this time in the American West. A train robbery by a band of vampire gunslingers sets off a series of events that puts Bram on the run, Oscar leading a rescue party and our heroes being pursued by an unstoppable vampire bounty hunter who rides a dead, reanimated horse.
… …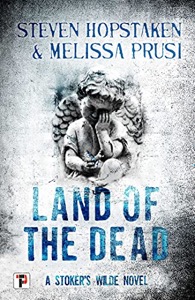 Bram Stoker and Oscar Wilde have returned to their lives in London after their adventures in the American West. Bram is managing a theatre and Oscar is rising to fame and planning his upcoming wedding when they are once again called upon to battle supernatural evil.
Grief-crazed scientist Victor Mueller needs Bram's unusual blood for his mad quest to bring his dead wife back to life, and he'll resort to kidnapping to get it. Meanwhile, a young medium named Lorna Bow runs fake séances in London under the thumb of an abusive uncle. When her mother Endora returns, Lorna learns the truth: they come from a long line of witches, and soon Endora has awakened Lorna's dormant powers. When the scientist and the witches combine forces, all Hell breaks loose. Long-dead souls find themselves back in the land of the living, and some of them have scores to settle with our heroes. But as Mueller's ambition and her mother's desire for vengeance against the men who imprisoned her become clear, Lorna soon finds herself questioning the morality of their work.Bram and Oscar must team up with American secret agent Cora Chase to protect all they hold dear. Only a mission into the Land of the Dead can stop Mueller and Endora from bringing back more souls. Bram's wife Florence must call on the monster-fighting skills she honed in America, and even Oscar's bride Constance has to face new challenges as she learns how the supernatural has shaped her own history.
… …