Quincy Harker, Demon Hunter

By John G. Hartness

Dracula calls him nephew.
His guardian angel calls him Q.Demons call him The Reaper. Straight out of the pages of the legendary vampire novel Dracula comes a demon hunter for the modern world. "There are things in this world that men and women aren't meant to understand. We aren't supposed to know these things exist, much less how to fight them. The things that go bump in the night, the monsters in the closet, the shadow out of the corner of your eye -- that's where I live." Quincy Harker is the immortal magic-wielding son of Jonathan Harker and Mina Murray from the classic novel Dracula. Today he lives in Charlotte, NC, hunting demons and making the world a safer place while making wisecracks and tossing back shots.
… …
Year One collects four short novels in the Quincy Harker, Demon Hunter series
Raising Hell - Winner of the 2016 Manly Wade Wellman Award - Quincy Harker takes on a demon-summoning entrepreneur that makes Gordon Gecko look like Santa Claus. Straight to Hell - The Four Horsemen are back in Charlotte, NC, and I don't mean Ric, Arn, Tully, and Barry. Harker has to save the world from the forces of Apocalypse. Hell on Heels - She's hot, she's mean, she's borderline psychotic and has a lot of issues with Harker and his people. She's Gabriella Van Helsing, and she's Hell on Heels. Hell Freezes Over - Somebody is walking through dreams and murdering families all over Harker's city. Now the ghost of a murdered little girl is walking through Harker's dreams. Is he going to stand for this? Yeah, when Hell Freezes Over
.
… …
Harker and his cohorts battle bigger threats, team with legends of folklore, and try to save the world from a demonic horde. All with snark, flair, and heaping helpings of bloodshed and mayhem.
Heaven Sent - the origin of Harker's guardian angel GloryHeaven's Door - there's a murderer on the streets of Charlotte, but he's killing angels!Heaven Help Us - Harker is on the run, and nothing is as it seems in this small town.Heaven Can Wait - Can Harker and the Shadow Council save the world from a demon invasion?
… …
Collects the four novellas:
Calling All Angels - This Shadow Council Case Files Novella features Jo Henry, great-granddaughter or legendary steel-driving man John Henry, as she searches for an angel in an underground cage fighting ring. Jo finds more than she bargained for when she stumbles across a fighter who is more than meets the eye. Devil Inside - Quincy Harker takes center stage to battle a demon in the City of Churches. Harker hunts an angel in Charleston, but finds much more as he fends off attacks from local magic-users and a vengeful demon summoner determined to do to Charleston what General Sherman didn't - destroy it. Angel Dance - What brings Victor Frankenstein's most famous creation to New Orleans? Well, it ain't the cajun food, so it must be the jazz! Adam Franks searches the bayou and the back streets for an angel, but finds fire, murder, and blood instead in this Shadow Council Case Files novella.Running with the Devil - We all have our quirks, but Quincy Harker gets downright fetishist in the finale to Book I. He descends into Purgatory, not the dimension, but the long-running roving party run by a man that might just be a lot more holy than his job would evidence.
… …

She Talks to Angels - In the fifth part of the Quincy Harker crossover series, Gabby helps hunt down a rogue archangel in St. Louis, learning more about herself, about history, and about that cute doctor's son than she expected.
Shout at the Devil - The Quest for Glory continues as Quincy Harker travels west to hunt down a rogue Archangel and avenge the murder of a good friend.Angel of Harlem - The Quest for Glory rushes toward its conclusion as Quincy Harker steps in for a missing Shadow Council member and goes to New York City to find the last Archangel. But when pieces of his past come back to haunt him, Quincy must face feelings long buried and horrors brand new.Sympathy for the Devil - It's been a two-year quest that has spanned the continent, and now Quincy Harker is crossing dimensions to do battle with Lucifer and restore his Guardian Angel Glory's divinity. Is he really hero enough to stand toe to toe with the Devil himself and come out alive?
… …
Where do you go when you've saved the world but given up everything and everyone you love in the process?
The home of the blues, of course! Quincy Harker has retreated to Memphis to lick his wounds and get started on building a new life for himself. He's determined to be a normal guy (almost) living a (mostly) normal life working as a bouncer in a (not even a little bit) normal bar. But it all goes sideways when someone asks for his help with a little demon problem. Harker knows there's no such thing as a little demon problem. He's right, of course, because his demon problem includes hellhounds, dragons, djinn, angels, artifacts, secret government agencies, and a high school prom. This could absolutely be Quincy Harker's most dangerous outing yet, and that's before we even mention the explosions!
… …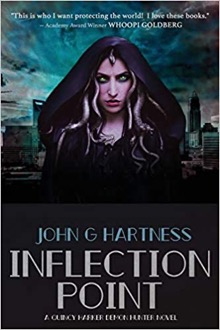 His uncle has been kidnapped.
A shadowy government agency is torturing cryptids in his city. His Sanctuary has been revoked from the one place he could drink safely. There's a medusa at the mall. A fairy princess might have just summoned an Old One in a public park. Quincy Harker really wishes he'd just stayed in Memphis. But he didn't. He came home, to find out that a secret government agency has gone rogue and kidnapped Luke, along with literally dozens of other cryptids, faeries, lycanthropes, and monsters. Now Harker and his crew have to rescue Luke and take down a massive government conspiracy while keeping escaped monsters from destroying Charlotte! There are times in a person's life when they know that nothing will ever be the same. This is one of those times. This is Quincy Harker's Inflection Point.
… …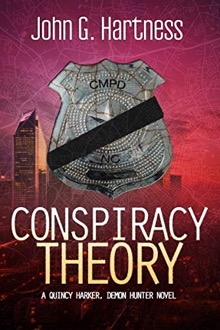 There are rogue government agents hunting supernatural creatures all over Charlotte. There's a bloodbath in the parking lot of a demon bar and a massacre at a shopping mall. There are protests and tear gas and riot cops and somehow Quincy F'n Harker is the one stuck in the middle of cops, monsters, and DEMON agents trying to keep them from tearing his city apart.
And now there seems to be a traitor in their midst. Couple that with the revelation that Harker's guardian angel might have an ulterior motive, and you've got a web of deception and intrigue that can only be CONSPIRACY THEORY.
… …
Collects two short stories and one short novella giving a peek behind the curtain at the man, the myth, the legend that is Quincy Harker, as well as the origin story of one of his most popular cohorts, Jo Henry.
Hammer Time - Jo Henry takes up her father's mantle reluctantly, but in a moment of most dire necessity. A moment of necessity and claws. LOTS of claws. Jazz City Blues - Harker wakes up like so many of us have - facedown in a New Orleans gutter with a hangover the size of Lake Ponchartrain. Then zombies happen. Anna's Song - the story of Harker's first love, and the tragedy that took him from her. Anna's Song is a love story, a cautionary tale, and a story about killing lots of Nazis.
… …
A man steps into a bar. Cards stop flying across the felt. Drinks stop sliding down the bar. The piano player freezes mid-note. Trouble has arrived, and it wears its gun for all the world to see.
This atmospheric tale of love and justice has more in common with High Plains Drifter than with most Quincy Harker stories, but lives in the same world. Magic, whiskey, cards, cash, and bullets blend together in a creepy tale of revenge and redemption.
… …