By Justin Gustainis


Occult investigators Quincey Morris and Libby Chastain search out evil in the darkest corners of America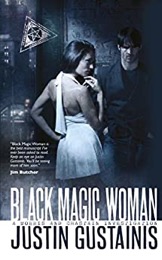 Occult investigator Quincey Morris and his "consultant", white witch Libby Chastain, are hired to free a family from a deadly curse that appears to date back to the Salem witch trials. Fraught with danger, the trail finds them stalking the mysterious occult underworlds of Boston, San Francisco, New Orleans and New York, searching out the root of the curse. After surviving a series of terrifying attempts on their lives, the two find themselves drawn inexorably towards Salem itself - and the very heart of darkness.
… …
Supernatural investigator Quincey Morris and his partner, "white witch" Libby Chastain, are each in pursuit of a vicious killer. One is murdering small children for their bodily organs; the other is hunting down white witches – and Libby may be next. Along a trail that leads from Iraq to Turkey, to the US, all clues point to crazed billionaire Walter Grobius, a man obsessed with harnessing the ultimate evil. Morris and Chastain, teamed with the deadly Hannah Widmark, must fight desperately to stop a midnight rendezvous between forces so powerful that the fate of the world may be at stake. And the clock is ticking...
… …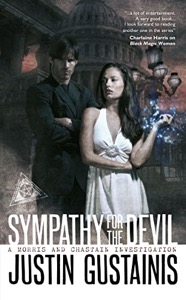 Senator Howard Stark wants to be President of the United States. So does the demon inside him. With the competing candidates dropping out due to scandal, blackmail, and 'accidental' death, Stark looks like a good bet to go all the way to the White House. And if he gets there, Hell on Earth will follow. Occult investigator Quincey Morris and white witch Libby Chastain are determined to stop this evil conspiracy. But between them and Stark stand the dedicated agents of the US Secret Service – as well as the very forces of Hell itself. Quincey and Libby will risk everything to exorcise the demon possessing Stark. If they fail, 'Hail to the Chief' will become a funeral march – for all of us.
… …
Two thrilling new occult investigations, featuring the urban fantasy sleuths Quincy Morris, great-grandson of Dracula's killer, and the white witch Libby Chastain.
PLAY WITH FIREHouses of worship – churches, synagogues and mosques alike – are burning across the U.S., usually while still full of people. The fires are initially dismissed as random acts of violence, until Morris and Chastain uncover the deadly meaning behind the destruction, and the terrifying cause the arsonists seek to serve.MIDNIGHT AT THE OASISSeeking revenge for the U.S.'s actions in the Middle East, a terrorist cell has conjured an afreet, a deadly djinn that will strike at the very heart of America – unless Morris and Chastain can stop it first.
… …
A new threat – the Caliphate – has arisen in the Middle East, and the Pentagon is stymied – how to thwart these fanatics without sending American troops into yet another costly, unpopular war?
One high-level official thinks he has found the ultimate counter-weapon: demons. Ted Burnett, head of the CIA's most secret division, has put in motion a plan to summon the denizens of Hell into our world, control them, and send them against America's enemies.The plan is insane. Ted Burnett is insane. But no one with the power to stop him is even aware that the plot exists – except for occult investigator Quincey Morris and his partner, white witch Libby Chastain.No humans can hope to control an army of demons – for long. If Burnett summons the Damned into this world, they will not depart until all of humanity has been laid waste. He has to be stopped. But with CIA-trained killers at his disposal, Ted Burnett is prepared to eliminate anyone who would interfere with his plan. It will take all the resourcefulness and power Morris and Chastain and their friends can muster to stop him…
… …