The Diaries of the Family DraculBy Jeanne Kalgoridis

… …
At the castle of Prince Vlad Tsepesh, also known as Dracula, Vald's great-nephew Arkady is honored to care for his beloved though strange great-uncle...until he begins to realize what is expected of him in his new role. It seems that either he provides his great-uncle with unsuspecting victims to satisfy his needs, or Vlad will kill those Arkady loves. He is trapped into becoming party to murder and sadistic torture. And it is in his blood.
When Arkady learns that his newborn son is being groomed to one day follow in his footsteps, he knows that he must fight Dracula, even if it means death.
… …
In the flickering gaslights of Vienna a brother watches—as a woman of alabaster beauty, his sister, takes two lovers at once. Then she pours her passion into the most forbidden act of all . . .
In the streets of Amsterdam a young man, the secret lover of his brother's wife, is whisked into a waiting carriage for a long journey into darkness and reunion with his father . . . They are a family bound my an ancient curse, one generation pitted against another, taboos shattered, their firstborn's blood sipped from a silver chalice. In his stony fortress waits Vlad the Impaler, while his heir, Arkady, cries out to his sons: "Let the curse end with me!"
… …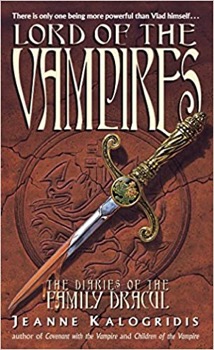 After the death of his half brother, Stefan, at the hands of Vlad Tsepesh--also known as Dracula--and after the destruction of his vampire father, Arkady, also at the hands of Vlad, Abraham van Helsing has traveled the world slaying many vampires. With every vampire he destroys, Bram becomes stronger and Vlad weaker, and soon Bram hopes he will be able to finally kill the fearsome vampire who has kept the Tsepesh family enslaved through a centuries-old blood ritual.
But a desperate Vlad and his vampire great-niece, Zsuzanna, summon help from the most powerful, brutal, and beautiful vampire of all--Countess Elizabeth of Bathory. Bram learns of their plot to destroy him, and makes his own move to strike out at Vlad before Vlad can put him to death. He teams up with a courageous band of humans as he hunts Vlad--including Mina Harker and John Seward--and they finally succeed in killing the head of the Tsepesh clan, just as Bram Stoker foretold in Dracula. But the terror does not end with the death of Vlad, for there is another force that drives Vlad, Zsuzanna, Elizabeth and all the vampires, an ancient entity more evil than anything Bram has ever encountered: the Lord of the Vampires. And for Bram to defeat this dark lord, he must once again risk losing his very soul, to save not only his family, but humanity as well.
… …