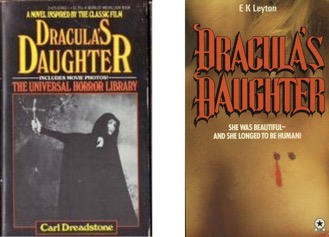 By Ramsey Campbell writing as Carl Dreadstone(1977) and EK Leyton(1980)

In 1977 Berkeley published a novelization of Dracula's Daughter as part of their Universal Horror Library.
This book expands upon the events and themes of the movie and further fleshes out many of the characters.Credited to Carl Dreadstone, a house name that was a pseudonym for both Walter Harris and Ramsey Campbell, this one is generally accepted to be Campbell.
Republished by Star in 1980, this time using a different pseudonym - EK Leyton.
… …