By Kinsley Adams
Why date the normal when you can date the paranormal. Dracula, the Wolfman... who wouldn't want a piece of that action?
… …
The Legend. The Immortal. My… Boyfriend?
You know, I really only had two goals in life:
Unearth the truth about vampires and,

Become hella famous.
Nowhere on that list did I have "die" or "get turned into a bloodsucker." But guess what? Life doesn't always go according to plan. Now, thanks to an unfortunate back-alley encounter, I'm the newest member of the undead country club (fangs, coffin, and all.) And my savior? Sire? Whatever…Freaking. Dracula. Himself. Even stranger, he claims I'm his mate. Like… eternal love. But come on! I don't have time for that. Not only do I have a story about illegal bloodletting to bust wide open, but I also need to track down my attempted murderer and learn how to be a vampire. Falling in love is the last thing on my mind right now.Too bad Dracula has other plans for me.
… …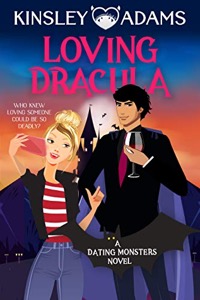 Welp, I, Anna Perish, am now a vampire. And it's been one hell of a ride so far. Not only am I shacking up with the Dracula, but I've also been summoned by the Queen of Vampires. And why, you might ask? Oh, it's nothing big. She just wants to kill me for killing her sire. Unfortunately, self-defense doesn't mean squat among the undead.
Then there's introducing Vlad to my family—which might just be more terrifying than facing the queen. Oh, and we mustn't forget my new stalker. Don't know who it is yet, but they've been leaving me lovely gifts like dead cats and rabbits. This person really knows the way to a girl's heart. Man, my life has become really dangerous since dying. If I survive all this, I think it's time for a looonnng vacation. With a pool. And Vlad as my nekkid Cabana boy. Now, there's an image…Wish me luck. I'm certainly going to need it.
… …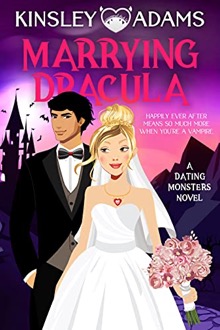 I wanted a vacation. VA-CA-TION. Yet, in a stunning example of "be careful what you wish for," I'm in freaking prison.
In England, no less.So much for my darling Vlad as a nekkid Cabana boy.How did I go from human vlogger to vampire inmate in a matter of months?I need to get myself out of this mess. I do have a wedding to plan, after all, and nothing will keep me from marrying Vlad—not even the queen.Even if that means I have to kill her myself.
… …