Dracula of the Apes
By G. Wells Taylor
Dracula of the Apes picks up where Bram Stoker's Dracula left off and Edgar Rice Burroughs' Tarzan of the Apes began.
… …
Dracula's Gypsy servant Horvat has the special duty of preserving his master's body if the worst should ever happen—and the worst has happened!
Van Helsing's team of vampire hunters has decapitated the count and reduced him to dust and ashes. Horvat's instructions are simple. Dracula's remains must be stored in a special urn and bathed in blood while en route to South Africa where a mysterious ally will see to his resurrection. But fate steps in off the African coast and a shipwreck casts Horvat and his precious burden into the jungle setting of another literary classic.
.
… …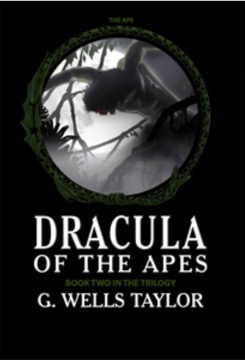 A grieving she-ape whose son was murdered by an ambitious alpha male, mistakes Dracula's regenerating body for a newborn of her species, so she names the foundling "Gazda" and takes him to her tribe to raise as her own. With only a "child's mind" and no memory of his true identity, the unusual orphan uses his budding abilities to survive in the jungle and grow from social outcast to trusted member of the tribe.
As Gazda matures into a peerless hunter, he wins friends and enemies among the bull apes who compete for dominance; and while his differences raise questions about his origins, the call of the wild overpowers their doubts.
… …
As Gazda grows to manhood he drifts away from his adoptive family to search out his true origins and others of his kind. When American and European castaways arrive at his lair, he believes they are from his real tribe; but, he dare not approach them until he can resist the siren song of the blood that flows in their veins. When his new friends are captured by cannibal pirates, Gazda races to the rescue. Will winning their freedom reward him with love or damn him eternally as Dracula's unspoken curse returns?
… …
… …